Do you hear that? It's the Skullheart!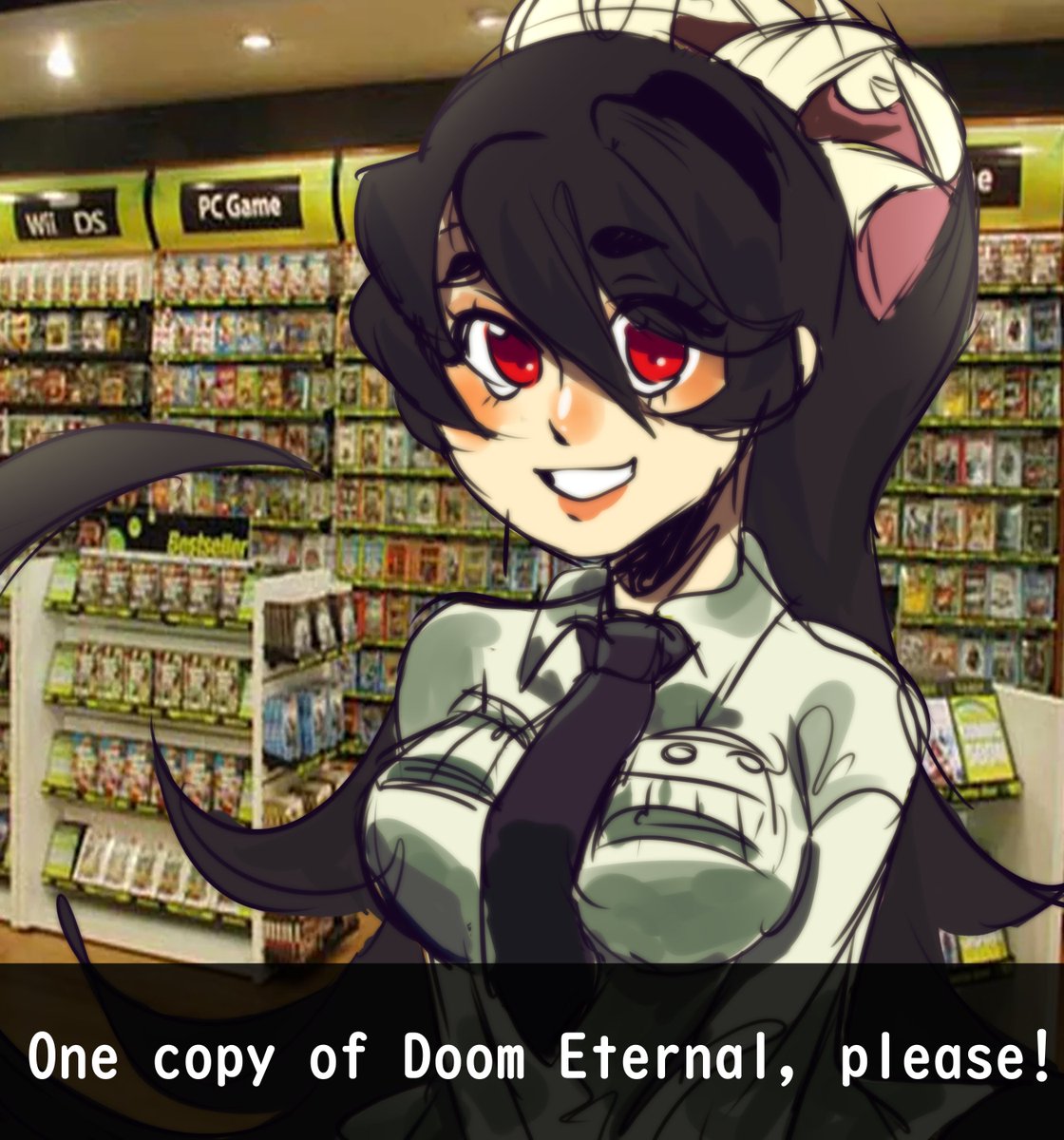 First and foremost, I regret not picking Skullgirls up sooner. Anyway, Skullgirls is a game that I came to greatly enjoy during the late 2020. At the time, the player-base was seemingly non-existent, but that didn't stop me from learning--albeit improperly--and finding fellow beginners to grow with. (Most of those players abandoned the game later on. ;=;) I say "improperly" because although I began my journey with Filia, I never learned a bnb for her, and after around 200 hours, I simply dropped her and continued learning my team of Robo/Cerebella. This team is one I still use with the addition of Squigly as mid; thus, Robo/Squigly/Cerebella. (At the time of typing this, I have 603 hours in the game.) For the first 300 hours, I did not have many online friends to play with, but that would soon change following my 400th hour in the game. Truly I tell you, there is a great diversity of player types you will meet in the fighting game community. From the calm to the "boasty," scrubs and even insane, (I had one that was truly mentally ill, we have since parted ways.) there will always be someone to accommodate said archetypes. Nonetheless, I am grateful for all the people I have come across and played with; couldn't have done it without y'all! I don't even know if I would have stepped out of training mode if it weren't for a friend of mine named "DIO." While I used to just play within the confines of a private lobby among one or two friends, these days I choose to mostly join/create public lobbies due to a more active player-base following the announcement of "Annie of the Stars!" I am absolutely grateful for the new developments for this game, and the new hype surrounding it. Even if none of those new things came to be, I wouldn't have stopped playing and growing, but the Robo-Fortune change-log definitely was an excitement. As for the new character: Annie, I tried her and found her to be fun to play. However, in my willful ignorance, at the time, I did not consult The Wiki for potential bnbs and strats, which although a new character, I'm sure there were some already available. :/ Whoops! So I dropped her,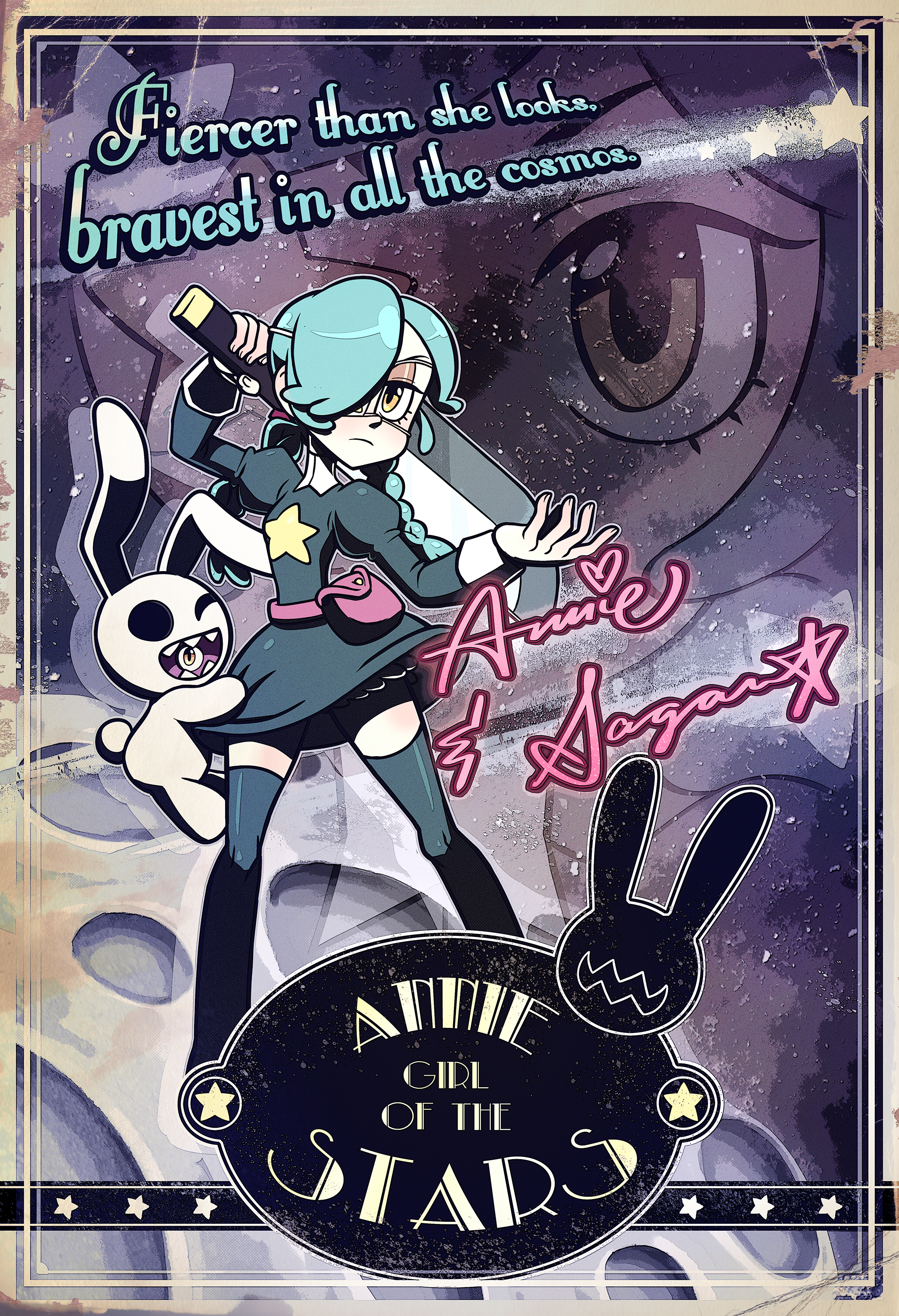 but I will say that I miss having her DP assist, so that might entice me to learn her and Filia again. (Most definitely Filia!) As a matter of fact, as of writing this, another new chracter is in the works: Umbrella! I am excited for this one--especially her stage--and while I may not stick with her, I will definitely give her a shot. That being said, I am trying to learn Peacock and/or Parasoul (each are a challenge in their own way), but that is taking way longer than I planned out due to pure laziness on my behalf. Since the Season One Pass promises 4 new characters, and Annie and Umbrella being two of those, my pick for last two would be Brain Drain and Marie or Minette. Part of me wishes it to be Marie, but the other half wants Minette, either one will suffice, but then there is Black Dahlia. That's all I have to say for now!

Note: I have ceased to involve myself in Steam and FGC content due to the path I wish to take my life. You may see my Steam profile for the "legacy" I left behind, but ultimately I leave you with one point: 768 hours of Skullgirls and 7 years of memories. Thank you!


So basically, I returned to Skullgirls and am having a blast. See you on the stage!
"Most Favorite" Skullgirls OSTs
In a Moment's Time
Unfinished Business
Going Nowhere Fast
The Lives we Tried to Reclaim
The Dreams we Left Behind
⣿⣿⣿⣧⣿⣽⣿⣿⣿⣿⣿⣿⣿⣿⣿⣿⣿⣿⣿⣯⣿⣿⣿⣿⣿⣿⣿⣿⣿⣿⣿⣿⣿⣿⣿⣿⣿⣿⣿⣿⣿⣿⣿⣿⣿⣿⣿⡿⡟⡿⢿⣿⣿⣿⣿⣿⣿⣿⣿⣿⣷⣿⢯⣺⢕⡯⣞⣾⣿⣿⣿⣿⣿⣿⣿⣿⣿⣿⣿ ⣿⣿⣿⣿⣿⣿⣿⣿⣿⣿⣿⣿⣿⣿⣿⣿⣿⣿⢽⣿⣿⣿⣿⣿⣿⣿⣟⣾⣿⣿⣿⣿⣿⣿⣿⣿⣿⣿⣿⣿⣿⣿⣿⣿⣿⣿⣿⣿⣿⣿⣿⣿⠿⡛⡩⡡⡱⢨⢘⠔⠔⢅⠫⡛⠿⢿⢟⣿⡿⡯⣳⣝⢮⢯⣺⣾⣿⣿⣿⣿⣿⣿⣿⣿⣿⣿⣿⣿ ⣿⣿⣿⣿⣿⣿⣿⣿⣿⣿⣿⣿⣿⣻⡿⣿⡿⡽⣹⣝⢿⣿⣿⣟⣿⣿⣿⣿⣿⣿⣿⣿⣿⣿⣿⣿⣿⣿⣿⣿⣿⣿⣿⣿⣿⣿⣿⡿⡫⢩⠫⡑⠕⡐⢅⡒⢜⠨⡢⡑⢍⠪⡨⡆⠅⡑⡈⠙⢮⣻⡪⣞⣽⣷⣿⣿⣿⣿⣿⣿⣿⣿⣿⣿⣿⣿⢿⣿ ⣿⣿⣿⣿⣿⣿⣿⣿⣿⣿⣯⣿⣽⣯⣿⣯⣯⢯⡳⣳⢝⡾⣷⣿⣿⢷⣿⣿⣿⣯⣿⣿⣿⣿⣿⣿⣿⣿⣿⣿⣿⣿⣿⠿⡛⡻⡑⢌⢌⠆⢱⢘⠨⡘⢔⠸⡐⠕⡌⢜⠰⡑⢌⢂⠅⠢⠨⢈⠠⠑⣽⣾⣿⣿⣿⣿⣿⣿⣿⣿⣿⣿⣿⡿⣯⣾⢿⣿ ⣿⣿⣿⣿⣿⣿⣿⣿⣿⣿⣿⣿⣟⣷⢫⢾⣻⣶⣽⣺⣝⣖⢿⣷⢿⣻⢿⣿⣿⣿⣻⣿⣿⣿⣿⣿⣿⣿⣿⣿⡿⠫⡑⡑⢌⠢⡪⢨⢂⠪⠠⡑⡰⢘⢌⠪⡨⣪⡨⡂⢇⢪⠨⢂⠌⠌⢌⢐⠨⠐⣿⣿⣿⣿⣿⣿⣿⣿⣿⣿⣿⡿⣯⣾⣿⡿⣾⣿ ⣿⣿⣿⣿⣿⣿⣿⣿⣿⣿⣿⣿⣿⢿⣝⣻⣿⡽⣾⣫⣮⣮⣳⢿⢿⣻⣝⢞⡽⣿⡿⣿⣿⣿⣿⣿⣿⣿⠟⠵⡘⡈⢢⡝⢌⠪⡨⢂⠆⣝⢰⢑⢔⢑⢔⠱⢜⠨⣣⢊⢢⢑⠨⢐⠨⠨⢐⢐⠠⠡⠸⣿⣿⣿⣿⣿⣿⣿⣿⣿⡿⣾⣿⣿⣟⢽⣿⣿ ⣿⣿⣿⣿⣿⣿⣿⣿⣿⣿⣿⣿⣿⣟⣟⡮⣇⣿⣟⣿⣻⣯⣿⢯⠯⣿⣟⣷⣯⢻⣿⣻⣿⣿⣿⣿⡿⡑⠌⠌⠔⣨⡞⢞⠪⢜⠨⡐⠝⢎⡏⠖⢔⢂⢆⠣⡑⡱⡐⠵⡐⢐⠨⢐⠨⠨⢐⢐⠨⠨⢈⢻⣿⣿⣿⣿⣿⣿⣿⣯⣾⣿⣿⡻⣪⣾⣿⣿ ⣿⣿⣿⣿⣿⣿⣿⣿⣿⣿⣿⣿⣿⣿⣿⣝⣞⣖⣻⢾⢻⣝⣟⣿⣯⣻⣯⣿⣾⣷⣻⣿⣿⣿⣿⢟⢑⠄⠅⢅⠝⠕⡌⢆⠣⡑⢌⢪⢮⢳⢝⠪⡊⢔⠢⡑⡑⢔⢘⠌⡌⡢⠨⢐⠨⢈⠔⡀⡊⠄⠅⢺⣿⣿⣿⣿⣿⢟⣷⣿⣟⣟⣞⣮⡃⣟⣿⣵ ⣿⣿⡿⣿⣿⣻⣿⣿⣿⣯⣭⣽⣽⣿⣻⣞⢮⣺⠪⠻⢿⣟⣾⢿⣾⣻⣺⣳⡿⢾⢇⢻⣿⣿⣏⡂⡂⡪⢘⠔⡡⠱⡨⡂⡣⢂⢑⡸⠪⡓⠙⠊⢌⢢⠱⠨⡊⡌⡢⡑⢌⢌⢊⠆⡪⡐⡐⡐⠌⡨⠨⣸⣿⣿⢿⣯⣿⣿⣿⣿⣿⣿⣿⣿⣿⣿⣿⣿ ⣿⣿⣾⣿⣿⣿⣿⣿⣿⣿⣿⣿⣿⣿⣿⡳⣝⡞⠄⢂⠈⠻⣻⣾⣯⣿⣽⣯⣿⣝⢭⡈⣿⣿⣿⣿⠗⡐⠡⢂⠕⡑⢔⢌⠬⢐⠠⡫⡮⣇⠄⠄⠐⢆⠕⢅⢕⠰⡨⢨⢂⠢⠡⡑⠔⠌⠌⡂⢅⠂⢅⣿⣿⣷⣿⣿⣿⣿⣿⣿⣿⣿⣿⣿⣿⣿⡿⡯ ⣿⣿⣿⣿⣽⣿⣿⣿⣿⣿⣿⣿⣿⣿⡳⡽⠅⠠⠈⡀⠂⡁⠄⠹⢾⡾⣿⢾⣻⣮⡳⣝⢸⡿⡋⠄⠨⢐⠡⣢⠑⡅⢕⢐⠅⢲⡳⡸⣿⣿⣧⣌⢼⣻⣮⣰⢐⢑⢌⠢⠪⡘⠌⡂⢅⡁⠅⢂⢂⠡⣾⣟⣾⣿⣿⣿⣿⣿⣿⣿⣿⣿⣿⣿⢟⡵⡝⡮ ⣿⣿⣿⣿⣿⣿⣿⣿⣿⣿⣿⣟⢟⡮⣞⡍⠠⠁⡐⠄⢂⠄⢂⠐⢀⢹⣛⢻⢻⢵⢝⢞⢮⡚⠠⠁⠅⢒⣽⣮⠧⡘⠄⢅⠕⣱⣽⣮⣷⢯⣿⣻⡾⣯⣿⣽⣧⣵⣐⢅⢛⣶⣶⢯⡳⡙⢐⠐⣠⣦⣿⣧⣿⣿⣿⣿⣿⣿⣿⣿⣿⣿⣟⣟⣕⢗⡝⡮ ⣿⣿⣿⣿⣿⣿⣿⣷⣽⣿⢞⣮⣳⢽⡪⡇⢀⠡⠄⠌⠠⠐⠄⢂⠄⣞⢮⡳⣝⢮⡫⣭⡳⡔⠈⠠⠈⠄⢹⣿⣷⣐⠨⠄⣑⠜⢿⣿⡼⡿⣞⣯⣿⢿⣌⠣⠙⠾⣟⣷⣶⢾⡏⡧⡃⠔⡐⠸⣿⣿⣿⣿⣹⢿⡻⡿⣫⣿⡿⠿⣟⣟⡯⡫⡳⡕⡧⡫ ⣿⣿⣿⣿⣿⣿⣿⣿⣿⣿⣿⣯⣿⢵⢯⡣⢀⠐⠠⠈⠄⢈⠐⠄⠄⡷⣝⢮⡳⡳⣝⢮⢮⡃⠈⠄⠂⡁⢸⢵⣻⣿⠠⢁⢹⣷⢷⣿⣿⣿⡿⣯⣿⣻⣖⡬⢕⡭⣹⡿⣞⢝⡎⣗⠕⢐⠠⢱⣿⣿⣟⣿⣷⢧⣕⣕⢿⣟⣿⣟⣿⢽⢎⢮⢳⡹⡜⣝ ⣿⣿⣿⣿⣿⣿⣿⣿⣿⣿⣿⡿⣻⣿⣿⣿⡄⠐⢀⠡⠐⠄⠂⡁⠄⡯⡮⣳⣙⣡⡺⣕⡇⢀⠡⠄⡁⢄⢯⡺⣜⢮⠃⠄⠠⣻⣿⣆⠝⣿⢿⣿⣾⣿⣞⣿⢻⠟⠏⠚⠘⢵⠙⠈⠙⣿⣿⣿⢟⣵⣿⣿⣿⣿⣿⣿⣿⣷⢷⢭⢵⢹⢪⢳⠕⡵⣹⢸ ⣿⣿⣿⣿⣿⣿⣿⣿⣿⣿⣿⣾⣿⣿⣿⣿⣷⡨⠄⡐⢈⠄⠡⠄⠄⠈⡮⣻⢮⡺⡪⡎⠄⠄⠐⡀⠄⡮⡳⡝⣎⠗⠄⠂⡁⣗⣕⢯⠐⠈⡿⣻⣟⣾⣟⣿⣅⠂⠄⠫⢳⢲⡰⡱⠲⣿⡿⣷⣿⣿⣿⣿⣿⣿⣿⣿⣿⢯⢳⢕⢗⢜⢎⡇⣗⣙⣬⣾ ⣿⣿⣿⣿⣿⣿⣿⣿⢿⣽⣿⣿⣿⣿⣿⣿⣿⣿⢄⠠⠄⣈⡤⡦⣜⢖⢾⢝⡗⠝⢉⠠⠈⡀⢁⡤⣺⢪⣫⡺⠊⢀⢡⣐⢮⡪⠎⠂⠐⣔⢝⡝⣯⡿⣾⣯⢿⣷⢴⡘⠑⠃⠋⠪⢣⣿⣧⢿⣿⡫⣿⣿⣿⡿⡻⡫⡎⣞⢜⢖⢆⣏⣮⣾⣿⣿⣿⣿ ⣿⣿⣿⣿⣿⣿⣿⣯⣿⣿⣿⣿⣿⣿⣿⣿⣿⡿⣝⢕⡶⡳⣝⢞⣎⢯⡳⣓⣥⣵⣶⠰⢐⣨⠅⠍⠨⡁⡂⡐⢐⠚⢖⠮⢚⣂⣠⢡⢺⡸⡱⣕⢕⢿⣻⡾⣿⣽⣟⢎⢦⢁⠈⠄⠠⠘⠻⢿⣶⣯⡿⣿⣿⡪⡳⡹⡜⣆⢧⣓⣵⣿⣿⣿⣿⣿⣿⣿ ⣿⣿⣿⣿⣿⣿⣟⣿⣿⣿⣿⣿⣿⢿⣿⣿⡯⣫⣿⢝⢮⡫⣎⢷⣱⣿⣿⣿⣿⡿⡡⢱⣾⣿⡧⠡⡁⡂⡐⢐⠐⠨⢐⢈⠙⢿⣿⣿⢕⢵⢹⡸⡪⡪⡳⡏⡷⣻⣾⢷⡱⡝⡕⡄⡕⡝⡕⡆⡨⡻⣿⣾⡜⡎⡧⡳⣱⣵⡻⣿⣿⣿⣿⣿⣿⣿⣿⣿ ⣿⣿⣿⣿⣿⣿⣿⣿⣿⣿⣿⣷⣿⣿⣿⣻⣿⢿⣗⣿⢏⣗⢵⣳⣿⣿⣿⣿⣿⣴⣾⣿⣿⣿⣿⣷⣔⡀⡂⡐⠨⠈⠄⡂⠌⡐⢉⣍⣷⡿⣷⢕⢝⢜⢎⢎⠎⡽⣾⢿⣟⣿⣜⢎⣾⣾⣾⠎⢉⠩⠬⣻⡯⠣⡕⢎⠞⡞⡯⢍⢿⣿⣿⣿⣿⣿⡿⡿ ⣻⣿⣿⣿⣿⣿⣿⣿⣿⣿⣿⣿⣿⣿⣯⣽⣾⣿⣾⢯⡳⡕⣷⣿⣿⣿⣿⣿⣿⣿⣿⣿⣿⣿⣿⣿⣿⣦⣦⣆⡡⠁⠅⠔⢐⠠⣡⣉⣿⣿⣟⡳⡕⡇⡇⡇⡏⡎⡫⣿⣽⣾⢻⣾⣿⣿⠁⢐⠠⠄⣯⢪⢙⡑⣙⡱⡱⡺⣻⢸⢩⢿⣿⣿⡻⡹⡸⡜ ⣷⣿⣿⣿⣿⣿⣿⣿⣿⣿⣿⣿⣿⣿⣿⣿⣿⣯⡯⡳⣕⢽⣼⣿⣿⣿⣿⣿⣿⣿⣿⣿⣿⣿⣿⣿⣿⣿⣿⣿⣿⣿⣿⣿⣿⣿⣿⣿⣿⣿⣿⣞⢜⢎⢎⢮⢪⢪⠪⠿⠚⠋⣿⣿⣿⡇⠐⠠⠐⢈⠸⢜⢎⢇⠃⠋⠪⡪⡻⡱⡱⣙⢻⢱⢕⢝⢜⢜ ⣿⣟⣿⣿⣿⣿⣿⣿⣿⣿⣿⣿⣿⣿⣿⣿⣿⣻⢎⢯⢺⢬⣿⣿⣿⣿⣿⣿⣿⣿⣿⣿⣿⣿⣿⣿⣿⣿⣿⣿⣿⣿⣿⣿⣿⣿⣿⣿⣿⣿⣿⣾⣕⢕⢕⠕⡑⠐⢈⠄⢂⠁⡿⣿⡿⡯⡌⠐⡈⠠⠄⣗⢕⡕⡌⢀⠁⢣⢛⠜⣜⢰⢱⢱⢱⢱⢕⢕ ⣿⣿⣯⢿⣿⣿⣿⣿⣿⣿⣿⣿⣿⣿⣿⣿⣿⡿⣝⢎⡗⡵⣙⢿⣿⣿⣿⣿⣿⣿⣿⣿⣿⣿⣿⣿⣿⣿⣿⣿⣿⣿⣿⣿⣿⣿⣿⣿⣿⣿⣿⣿⣷⠅⠕⠄⢂⠈⠠⠐⠄⠄⠱⡱⣅⡣⡫⡲⡢⢤⠥⡸⡱⡱⡅⡠⣈⢜⢜⠭⡪⢪⡊⡦⡣⡣⡣⣣ ⣿⣿⣿⣯⢿⣿⣿⣿⣿⣿⣿⣿⣿⣿⣿⣿⣿⣿⡿⣮⡪⡳⣕⢵⡹⡍⡟⡟⡟⡟⡿⢿⣿⣿⣿⣿⣿⣿⣿⣿⣿⣿⣿⣿⣿⣿⣿⣿⣿⣿⣿⠛⠡⠈⠄⠁⠄⠂⡁⢈⠄⠂⠄⢈⠒⢕⢜⢜⢜⢕⢝⢜⢪⢪⡪⡪⡪⣊⠎⣒⢍⢮⣾⢜⢜⢎⢎⢮ ⣎⢿⢿⣿⣿⣿⢿⣿⣿⣿⣿⣿⣿⣿⣿⣿⣿⣿⣿⣾⣿⣜⣎⣮⠪⢎⢗⢝⡜⡮⡪⡳⡪⡫⡻⡿⣿⣿⣿⣿⣿⣿⣿⣿⣿⣿⣿⣿⣿⣿⣟⠈⠌⡈⢀⠡⠄⠡⠄⠄⠂⠡⠈⠠⠐⢀⠁⢣⢳⢱⡱⡕⡕⡕⡕⡝⡜⣜⢢⢣⢣⠫⢫⢪⣮⣾⣾⢜ ⣷⡯⡺⡪⣿⣿⣷⡻⣿⣿⣿⣿⣿⣿⣿⣿⣿⣿⣿⣿⣿⣿⣿⣿⣿⣿⣿⣿⣾⣾⣼⣵⢹⢜⢕⢝⢆⢿⣿⣿⣿⣿⣿⣿⣿⣿⣿⣿⣿⣿⣿⣾⣤⡂⠠⠐⢈⠄⢂⠈⠄⠂⡁⠐⢈⠠⠐⠘⠜⠕⢕⢕⢕⢕⢕⡱⡱⡑⡕⡕⡕⡝⡜⡬⣻⣿⣿⢪
⣿⣿⣿⣿⣿⣿⣿⣿⣿⣿⣿⣿⣿⣿⣿⣿⣿⣿⣿⣿⣿⣿⣿⣿⣿⣿⣿⣿⣿⣿⣿⣿⣿⣿⣿⣿⣿⣿⣿⣿⣿⣿⣿⣿⣿⣿⣿⣿⣿⣿⣿⣿⣿⣿⣿⣿⣿⣿⣿⣿⣿⣿⣿⣿⣿⣿⣿⣿⣿⣿⣿⣿⣿⣿⣿⣿⣿⣿⣿⣿⣿⣿⣿⣿⣿⣿⣿⣿ ⣿⣿⣿⣿⣿⣿⣿⣿⣿⣿⣿⣿⣿⣿⣿⣿⣿⣿⣿⣿⣿⣿⣿⣿⣿⣿⣿⣿⣿⣿⣿⣿⣿⣿⣿⣿⣿⣿⣿⣿⣿⣿⣿⣿⣿⣿⣿⣿⣿⣿⣿⣿⣿⣿⣿⣿⣿⣿⣿⣿⣿⣿⣿⣿⣿⣿⣿⣿⣿⣿⣿⣿⣿⣿⣿⣿⣿⣿⣿⣿⣿⣿⣿⣿⣿⣿⣿⣿ ⠹⢿⣿⣿⣿⣿⣿⣿⣿⣿⣿⣿⣿⣿⣿⣿⣿⣿⣿⣿⣿⣿⣿⣿⣿⡿⡋⣿⣿⣿⣿⣿⣿⣿⣿⣿⣿⣿⢿⣋⣽⣿⣿⣿⣿⣿⣿⣿⣿⣿⣿⣿⣿⣿⣿⣿⣿⣿⣿⣿⣿⣿⣿⣿⣿⣿⣿⣿⣿⣿⣿⣿⣿⣿⣿⣿⣿⣿⣿⣿⣿⣿⣿⣿⣿⣿⣿⣿ ⠄⠄⠙⢿⣿⣿⣿⣿⣿⣿⣿⣿⣿⣿⣿⣿⣿⣿⣿⣿⣿⣿⣿⣿⣟⣼⡇⣿⣿⢸⣭⡻⣿⣿⣿⢟⣯⣾⣿⢣⣿⣿⣿⣿⣿⣿⣿⣿⣿⣿⣿⣿⣿⣿⣿⣿⣿⣿⣿⣿⣿⣿⣿⣿⣿⠟⠛⠉⠁⠄⠄⠄⠄⠄⠄⠈⠉⠙⠛⠛⠿⣿⣿⣿⣿⣿⣿⣿ ⠄⠄⠄⠄⠙⢿⣿⣿⣿⣿⣿⣿⣿⣿⣿⣿⣿⣿⣿⣿⣿⣿⣿⣿⣼⣿⡇⢻⣿⢸⣿⣿⣮⠛⣷⣿⣿⣿⡟⣿⣿⣿⣿⣿⣿⣿⣿⣿⣿⣿⣿⣿⣿⣿⣿⣿⣿⣿⣿⣿⣿⣿⡿⠋⠄⠄⠄⠄⠄⠄⠄⠄⠄⠄⠄⠄⠄⠄⠄⠄⠄⠄⠈⠙⠛⢿⣿⣿ ⠄⠄⠄⠄⠄⠄⠹⢿⣿⣿⣿⣿⣿⣿⣿⣿⣿⠿⣿⣿⣿⣿⣿⢣⣿⣿⣿⡼⣿⢸⣿⣿⡟⣾⣿⣿⣿⣷⠅⠶⣿⣝⢿⣿⣿⣿⣿⣿⣿⣿⣿⣿⣿⣿⣿⣿⣿⣿⣿⣿⠟⠁⠄⠄⠄⠄⠄⠄⠄⠄⠄⠄⠄⠄⠄⠄⠄⠄⠄⠄⢀⡀⠄⠄⠄⠄⠈⠙ ⣶⣶⣦⣄⣀⠄⠄⠈⢻⣿⣿⣿⣿⣿⣿⣿⡏⠠⣙⣋⣉⣉⣉⢸⣿⣿⣿⣧⡉⢸⣿⣿⢰⣿⣿⣿⣿⣿⠄⠁⢹⣿⣷⣝⠻⢿⣛⣉⣭⣭⣤⣺⣿⣿⣿⣿⣿⣿⠿⠁⠄⢀⣀⣀⣤⣶⣶⣶⣶⣶⣶⣦⣄⠄⠄⠄⠄⠄⠄⠄⠄⠉⠻⣶⣶⣶⣤⣀ ⣿⣿⣿⣿⣿⣿⣦⡄⠄⢹⣿⣿⣿⣿⣿⣿⣧⣿⣧⡴⣭⡛⣿⢸⣿⣿⣿⣿⡧⠘⠿⠿⠸⢿⣿⣿⣿⣿⠄⠄⠄⡿⣫⣴⣿⣿⠛⠿⡿⣯⣿⣿⣿⣿⣿⣿⣿⣟⣤⣾⣿⣿⣿⣿⣿⣿⣿⣿⣿⣿⣿⣿⣿⣿⣤⠄⠄⠄⠄⠄⠄⠄⠄⠄⠙⢿⣿⣿ ⣿⣿⣿⣿⣿⣿⣿⣿⣧⡄⢻⣿⣿⣿⣿⣿⣿⣿⣿⣿⠘⠛⠄⠄⠛⠋⠁⠄⠄⠄⠄⠄⠄⠄⠄⠄⠄⠉⠄⠄⠄⣼⣿⣿⣿⣿⣿⠙⣦⡛⣿⣿⣿⣿⣿⣿⣿⣿⣿⣿⣿⣿⣿⣿⣿⣿⣿⣿⣿⣿⣿⣿⣿⣿⣿⣷⣄⠄⠄⠄⠄⠄⠄⠄⠄⠄⠘⢻ ⣿⣿⣿⣿⣿⣿⣿⣿⣿⣿⣾⣿⣿⣿⣿⣿⣇⠻⠋⠄⠄⠄⠄⠄⠄⠄⠄⠄⠄⠄⠄⠄⠄⠄⠄⠄⠄⠄⠄⠄⠄⠄⠉⠻⢿⣿⠏⠄⠹⣿⣎⢻⣿⣿⣿⣿⣿⣿⣿⣿⣿⣿⣿⣿⣿⣿⣿⣿⣿⣿⣿⣿⣿⣿⣿⣿⣿⣦⡀⠄⠄⠄⠄⠄⠄⠄⠄⠄ ⣿⣿⣿⣿⣿⣿⣿⣿⣿⣿⣿⡿⠿⠟⠛⠛⠋⠄⠄⠄⠄⠄⠄⠄⠄⠄⠄⠄⠄⠄⠄⠄⠄⠄⠄⠄⠄⠰⢶⣤⣀⡀⠄⠄⠄⠙⠄⠄⠄⣿⣿⣇⠹⢿⣿⣿⣿⣿⣿⣿⣿⣿⣿⣿⣿⣿⣿⣿⣿⣿⣿⣿⣿⣿⣿⣿⣿⣿⣷⡄⠄⠄⠄⠄⠄⠄⠄⠄ ⣿⣿⣿⣿⣿⣿⣿⣿⣿⣿⡇⠄⠄⠄⠄⠄⠄⠄⠄⠄⠄⠄⠄⠄⠄⠄⠄⠄⠄⠄⠄⠄⠄⠄⠄⠄⠄⠄⠄⠉⠻⣿⣦⠄⠄⠄⠄⠄⠄⣿⣿⣿⡇⠈⢻⣿⣿⣿⡟⣛⢻⣿⣿⣿⣿⣿⣿⣿⣿⣿⣿⣿⣿⣿⣿⣿⣿⣿⣿⣿⡆⠄⠄⠄⠄⠄⠄⠄ ⣿⣿⣿⣿⣿⣿⣿⣿⣿⣿⣧⠄⠄⠄⠄⠄⠄⠄⠄⠄⠄⠄⠄⠄⠄⠄⠄⠄⠄⠄⠄⠄⠄⠄⠄⠄⠄⠄⠄⠄⠄⠄⢻⣧⡀⠄⠄⠄⠄⣿⣿⣿⣿⠄⠄⢛⢿⣿⡄⢿⡧⡽⣿⣿⣿⣿⣿⣿⣿⣿⣿⣿⣿⣿⣿⣿⣿⣿⣿⣿⣿⡄⠄⠄⠄⠄⠄⠄ ⣿⣿⣿⣿⣿⣿⣿⣿⣿⣿⣿⡀⠄⠄⠄⠄⠄⠄⠄⠄⠄⠄⠄⠄⠄⠄⠄⠄⠄⠄⠄⠄⠄⠄⠄⠄⠄⠄⠄⠄⠄⠄⠄⠘⠇⠄⠄⠄⠄⠿⣿⠿⠏⠄⠄⠄⢃⣉⣭⣤⣍⡻⢎⣿⣿⣿⣿⣿⣿⣿⣿⣿⣿⣿⣿⣿⣿⣿⣿⣿⣿⣷⠄⠄⠄⠄⠄⠄ ⣿⣿⣿⣿⣿⣿⣿⣿⣿⣿⣿⣷⠄⠄⠄⠄⠄⠄⠄⠄⠄⠄⠄⠄⠄⠄⠄⠄⠄⠄⠄⠄⠄⠄⠄⠄⠄⠄⠄⠄⠄⠄⠄⠄⠄⠄⠄⠄⠄⠄⠄⠄⠄⠄⠄⠄⢸⣿⣿⣿⡿⢣⣾⣿⣿⣿⣿⣿⣿⣿⣿⣿⣿⣿⣿⣿⣿⣿⣿⣿⣿⣿⣷⠄⠄⠄⠄⠄ ⣿⣿⣿⣿⣿⣿⣿⣿⣿⣿⣿⠁⠄⠄⠄⠄⠄⠄⠄⠄⠄⠄⠄⠄⠄⠄⠄⠄⠄⠄⠄⠄⠄⠄⠄⠄⠄⠄⠄⠄⠄⠄⠄⠄⠄⠄⠄⠄⠄⠄⠄⠄⠄⠄⠄⠄⢸⣿⣿⢟⣼⡿⠟⣛⣿⠻⣿⣿⣿⣿⣿⣿⣿⣿⣿⣿⣿⣿⣿⣿⣿⣿⣿⣆⠄⠄⠄⠄ ⣿⣿⣿⣿⣿⣿⣿⣿⡿⠟⠃⠄⠄⠄⠄⠄⠄⠄⠄⠄⠄⠄⠄⠄⠄⠄⠄⠄⠄⠄⠄⠄⠄⠄⠄⠄⠄⠄⠄⠄⠄⠄⠄⠄⠄⠄⠄⠄⠄⠄⠄⠄⠄⠄⠄⠄⢛⣻⣥⣤⣴⣿⣿⣿⣿⣿⣬⠻⣿⣿⣿⣿⣿⣿⣿⣿⣿⣿⣿⣿⣿⣿⣿⣿⠄⠄⠄⠄ ⣿⣿⣿⣿⣿⡿⣫⡶⠏⠄⠄⠄⠄⠄⠄⠄⠄⢀⠄⠄⠄⠄⠄⠄⠄⠄⠄⠄⠄⣶⣶⣤⣀⣀⠄⠄⠄⠄⠄⠄⠄⠄⠄⠄⠄⠄⠄⠄⠄⠄⠄⠄⠄⠄⢀⣿⣿⣿⣿⣿⣿⣿⣿⣿⣿⣿⣿⣿⣝⢿⣿⣿⣿⣿⣿⣿⣿⣿⣿⣿⣿⣿⣿⣿⡆⠄⠄⠄ ⣿⣿⣿⠿⠿⡁⡀⠁⠄⠄⠄⠄⠄⠄⠄⠄⠄⣿⣷⣄⠄⠄⠄⠄⠄⠄⠄⠄⠄⢹⣿⣿⣿⣿⣿⣶⣶⣦⣤⣤⣀⠄⠄⠄⠄⠄⠄⠄⠄⠄⠄⠄⠄⢀⣾⣿⣿⣿⣿⣿⣿⣿⣿⣿⣿⣿⣿⡿⣛⢎⣿⣿⣿⣿⣿⣿⣿⣿⣿⣿⣿⣿⣿⣿⣿⠄⠄⠄ ⣿⠟⡀⠄⠄⠙⣷⡄⠄⠄⠄⠄⠄⠄⠄⠄⠄⣿⣿⣿⣿⣦⡀⠄⠄⠄⠄⠄⠄⠄⣿⣿⣿⣿⣿⠟⣽⣿⣿⣿⣿⣆⠄⠄⠄⠄⠄⠄⠠⣤⠄⠄⢠⣾⣿⣿⣿⣿⣿⡿⠟⢛⣛⡛⣛⣻⡥⡻⣳⣿⣿⣿⣿⣿⣿⣿⣿⣿⣿⣿⣿⣿⣿⣿⣿⡆⠄⠄ ⣵⣿⣿⡄⠄⠄⢹⣿⣆⠄⠄⠄⠄⠄⠄⠄⠄⢹⣿⣿⣿⣿⣤⠒⢄⠄⠄⠄⠄⠄⣿⣿⡿⠋⢁⡼⢿⣿⡿⠿⠛⠛⠄⠄⠄⠄⠄⠄⠄⣿⡇⢀⢻⣿⣿⣿⡟⣩⣶⣿⣿⣿⣿⣿⣬⠛⢊⣶⣿⣿⣿⣿⣿⣿⣿⣿⣿⣿⣿⣿⣿⣿⣿⣿⣿⣿⠄⠄ ⣿⣿⣿⣿⡀⠄⠄⢻⣿⡷⠄⠄⠄⠄⠄⠄⠄⠄⠩⡙⠻⠿⠭⠵⠦⣀⠢⣄⡀⠄⠳⣤⣤⡀⢈⡁⠄⠄⠄⠄⢸⢠⡇⠄⠄⠄⠄⠄⠄⢹⣿⢸⣇⡹⣿⡟⠴⠿⠛⠉⠉⠁⠄⠄⣀⡀⠈⠉⠻⣿⣿⣿⣿⣿⣿⣿⣿⣿⣿⣿⣿⣿⣿⣿⣿⣿⠄⠄ ⣿⣿⣿⣿⣷⠄⠄⠸⢏⣥⣭⣶⣦⣀⠄⠄⠄⠄⠄⠱⢿⣶⣶⡀⠄⠈⢱⣽⣷⣦⣀⠹⣿⣾⣿⣿⣄⠄⠤⢀⣾⣿⠁⠄⠄⠄⠄⠄⠄⢸⢏⣾⣿⣷⡘⠄⠄⠄⣀⣠⣶⣾⣿⣿⣿⣿⣷⣦⠄⢸⣿⣿⣿⣿⣿⣿⣿⣿⣿⣿⣿⣿⣿⣿⣿⣿⠄⠄ ⣿⣿⣿⣿⣿⡇⠄⢈⣿⣿⣿⣿⣿⣿⡇⠄⠄⠄⠄⠄⠙⢿⣿⣿⣄⣀⣸⣿⣿⣿⣿⣷⣿⣿⣿⣿⡿⠿⣟⣿⣿⠋⠄⠄⠄⠄⠄⠄⠄⣤⣿⣿⣿⣿⣿⣦⡤⣿⣿⣿⣿⣿⣿⣿⣿⣿⣿⣿⣧⣽⣿⣿⣿⣿⣿⣿⣿⣿⣿⣿⣿⣿⣿⣿⣿⣿⠄⠄ ⣿⣿⣿⣿⣿⠋⢠⡜⣿⣿⣿⣿⣿⣿⣷⡀⠄⠄⠄⠄⠄⠄⢿⣶⣿⣾⣿⣿⣿⣿⣿⣿⣿⣿⣿⣿⣿⣿⠿⠛⠄⠄⠄⠄⠄⠄⠄⢀⣾⣿⣿⣿⣿⣿⣿⣿⢛⡀⠙⠻⣿⣿⣿⣿⣿⣿⣿⣿⣿⣧⢻⣿⣿⣿⣿⣿⣿⣿⣿⣿⣿⣿⣿⣿⣿⠃⠄⠄ ⣿⣿⣿⡿⠁⠄⢸⣿⡞⠿⠿⠿⠿⠿⠿⣿⣶⣦⣀⣀⣀⣀⡀⣈⣩⣿⣿⣿⣿⣿⣿⣿⣿⣿⣿⣯⣉⣁⣀⣀⣀⠄⠄⠄⠄⠄⠄⣿⣿⣿⣿⣿⣿⣿⣿⣿⣾⣿⣀⡀⠄⠉⠻⠿⣿⣿⣿⣿⣿⣿⡞⣿⣿⣿⣿⣿⣿⣿⣿⣿⣿⣿⣿⣿⠏⠄⠄⠄ ⣿⠿⠉⠄⠄⠄⣾⣿⣿⣶⣶⣾⣿⣶⣶⣮⣙⡻⠿⠿⠿⢿⠿⡉⣿⣿⣿⣿⣟⣿⢿⣿⣿⣿⣿⣿⢿⣿⣿⠟⣁⠄⢰⣆⠄⠄⠄⠿⠿⠿⠏⠁⢈⢍⣱⢏⣿⣿⣿⣷⣶⣄⡀⠄⠄⠉⠛⠿⠿⣿⡇⣿⣿⣿⣿⣿⣿⣿⣿⣿⣿⣿⣿⠋⠄⠄⠄⠄ ⠄⠄⠄⢀⣤⣿⣿⣿⣿⣿⣿⣿⣿⣿⣿⣿⣿⣿⣿⣿⣤⣿⣷⣭⣤⣝⠛⢿⣿⣿⣿⣿⣿⣿⣿⡿⠛⢋⣤⣿⣿⢀⣼⣿⣧⢰⠒⣴⣾⣿⠄⠄⣤⣾⣿⡛⣿⣿⣿⣿⣿⣿⣿⣷⣤⣄⡀⠄⠄⠄⠄⠙⢻⣿⣿⣿⣿⣿⣿⣿⣿⡿⠁⠄⠄⠄⠄⠄ ⢀⣠⣶⣿⣿⣿⣿⣿⣿⣿⣿⣿⣿⣿⣿⣿⣿⣿⣿⣿⣿⣿⣿⣿⣿⣿⣇⢆⣤⣬⣟⡛⠛⠋⠄⢠⠴⢛⣯⣤⣾⣿⣿⣿⡏⢠⣿⣿⣿⣿⠄⠄⠘⣽⣿⣿⣾⣿⣿⣿⣿⣿⣿⣿⣿⣿⣿⣿⣷⣶⡄⣸⣿⣿⣿⣿⣿⣿⣿⣿⡟⠁⠄⠄⠄⠄⠄⠄ ⣷⣎⣙⡻⠿⢿⣿⣿⣿⣿⣿⣿⣿⣿⣿⣿⣿⣿⣿⣿⣿⣿⣮⢿⣿⣿⣇⣾⠿⠋⠁⠹⠄⡶⠈⡰⠻⢿⣿⣿⣿⣿⣿⢏⣁⣾⣿⣿⣿⣿⡀⠄⠄⠈⠻⣿⣿⣿⣿⣿⣿⣿⣿⣿⣿⣿⡿⠿⠿⢏⣵⣿⣿⣿⣿⣿⣿⣿⡿⠏⠄⠄⠄⠄⠄⠄⠄⠄ ⣿⣿⣿⣿⣶⣶⣍⣙⡻⢿⣿⣿⣿⣿⣿⣿⣿⣿⣿⣿⣿⣿⣿⣿⢿⣿⢙⣱⣶⠃⠄⠄⠄⠄⠄⠄⠁⠘⣿⣿⣿⠿⣳⣾⣿⣿⣿⣿⣿⣿⣷⡄⠄⠄⠄⠉⠻⢿⣿⣿⡿⠿⠿⠍⣿⣶⣶⣶⣿⣿⣿⣿⣿⣿⣿⣿⣿⠏⠁⠄⠄⠄⠄⠄⠄⠄⠄⠄ ⣿⣿⣿⣿⣿⣿⣿⣿⣿⣷⣦⣝⠻⣿⡻⣿⣿⣿⣿⣿⣿⣿⠟⣻⣾⣿⣿⡟⠁⠄⠄⠄⠄⠄⠄⢠⣼⣿⡘⢟⣥⣿⣿⣿⣿⣿⣿⣿⣿⣿⣿⣿⣦⡀⠄⠄⠄⠄⠄⠄⠄⠄⠄⠄⠄⠈⠛⠛⠛⠛⠛⠻⠟⠛⠛⠋⠄⠄⠄⠄⠄⠄⠄⠄⠄⠄⠄⠄ ⣿⣿⣿⣿⣿⣿⣿⣿⣿⣿⣿⣿⣿⣷⠈⠘⢿⡟⢫⣵⠶⢠⣭⠟⡻⢿⣿⣿⠆⠄⠄⠄⠄⠄⢀⣼⣿⣿⣿⣿⣿⣿⣿⣿⣿⣿⣿⣿⣿⣿⣿⣿⠟⢛⣥⣴⣶⣶⣤⣤⣤⣤⣤⣄⠄⠄⠄⠄⠄⠄⠄⠄⠄⠄⠄⠄⠄⠄⠄⠄⠄⠄⠄⠄⠄⢀⠄⠄ ⣿⣿⣿⣿⣿⣿⣿⣿⣿⣿⣿⠿⠉⠄⠄⠄⢈⢨⣭⣭⣐⣛⡿⣻⠿⠷⡹⠇⠄⠄⠄⠄⠄⢾⣫⣭⡭⣭⣭⣍⣛⣻⢿⣿⣿⢿⣿⣿⣿⠟⠉⠄⠄⠙⢿⣿⣿⣿⣿⣿⣿⣿⣿⣿⣿⣦⣀⠄⠄⠄⠄⠄⠄⠄⠄⠄⠄⠄⠄⠄⠄⠄⠄⠄⣰⣿⠄⠄ ⣿⣿⣿⣿⣿⣿⡿⠿⠟⠉⠁⠄⠄⠄⣀⣴⣿⣿⣿⣿⣿⣿⢿⣵⡿⠏⠄⠄⠄⠄⠄⠄⢌⡸⠿⢿⣶⣿⣇⠝⣻⡿⣰⢹⡟⢿⣿⣿⠏⠄⠄⠄⠄⠄⠄⠉⠿⣿⣿⣿⣿⣿⣿⣿⣿⣿⣿⣷⣦⣀⡀⠄⠄⠄⠄⠄⠄⠄⠄⠄⠄⠄⣠⡾⣿⣿⠆⠄ ⠙⠛⠋⠉⠉⠄⠄⠄⠄⠄⠄⠄⠄⣾⣿⣿⣿⣿⣿⣿⣿⣽⣿⠛⠄⠄⠄⠄⠄⠄⠄⣴⣾⡭⣴⣶⣶⣦⣤⣭⣭⣿⡻⣸⣿⢸⡿⠁⠄⠄⠄⠄⠄⠄⠄⠄⠄⠄⠙⠻⢿⣿⣿⣿⣿⣿⣿⣿⣿⣿⣿⣿⣶⣤⣤⣄⣀⣀⣠⣤⣴⡾⠛⣠⣿⣿⠄⠄ ⡀⠄⠄⠄⠄⠄⠄⠄⠄⠄⠄⠄⠘⡛⠿⣿⣿⣿⣿⣿⣿⠛⠄⠄⠄⠄⠄⠄⠄⠄⠄⣵⣿⢿⣿⣿⣿⣿⣿⣿⣿⣿⡇⣿⣿⠘⠄⠄⠄⠄⠄⠄⠄⠄⠄⠄⠄⠄⠄⠄⠄⠈⠙⠛⠻⠿⣿⣿⣿⣿⣿⣿⣿⣿⣿⣿⣿⡿⠟⠋⠁⠄⣴⣿⣿⣿⠄⠄ ⣿⣷⣤⣀⠄⠄⠄⠄⠄⠄⠄⠄⢸⣿⣿⣷⣾⣝⣻⡛⠄⠄⠄⠄⠄⠄⠄⠄⠄⡀⣼⣿⡿⣿⣿⣿⣿⣿⣿⢹⣿⣿⢳⣿⡿⠄⠄⠄⠄⠄⠄⠄⠄⠄⠄⠄⠄⠄⠄⠄⠄⠄⠄⠄⠄⠄⠄⠄⠄⠈⠉⠉⠉⠉⠄⠄⠄⠄⠄⢀⣰⣾⣿⣿⣿⡏⠄⠄ ⣿⣿⣿⣿⣷⡶⠄⠄⠄⠄⠄⢀⢸⣿⣿⣿⣿⣿⡟⠄⠄⠄⠄⠄⠄⠄⠄⠄⢀⢱⣿⣿⢱⣿⣿⣿⣿⣿⣿⣾⣿⣿⢸⣿⡇⠄⠄⠄⠄⠄⠄⠄⠄⠄⠄⠄⠄⠄⠄⠄⠄⠄⠄⠄⠄⠄⠄⠄⠄⠄⠄⠄⠄⠄⠄⠄⣀⣴⣾⣿⣿⣿⣿⣿⣿⠄⠄⠄ ⠛⠛⠻⠿⠁⠄⠄⠄⢠⣤⣾⠋⠄⣿⣿⣿⣿⣿⠇⠄⠄⠄⠄⠄⠄⠄⠄⢀⣾⣯⣿⣿⣥⣭⣿⣿⣿⣛⣃⠿⣿⢛⣾⡟⠄⠄⠄⠄⠄⠄⠄⠄⠄⠄⢀⠄⠄⠄⠄⠄⠄⠄⠄⠄⠄⠄⠄⠄⠄⠄⠄⠄⣠⣤⣶⣿⣿⣿⣿⣿⣿⣿⣿⣿⠃⠄⢀⣼ ⠄⠄⠄⠄⠄⣠⣴⣿⣿⣿⡏⠄⠄⠘⢿⣿⣿⡟⠄⠄⠄⠄⠄⠄⠄⠄⠄⣸⣿⣿⣿⣿⣿⣿⣿⣿⣿⣿⣿⣿⣿⣿⡟⣴⣷⡄⠄⠄⠄⠄⠄⠄⠄⠄⠘⣿⣿⣶⣤⣤⣤⣤⣤⣤⣤⣤⣤⣤⣴⣶⣿⣿⣿⣿⣿⣿⣿⣿⣿⣿⣿⣿⣿⡟⠄⢀⣾⣿ ⠄⠄⣠⣶⣿⣿⣿⣿⣿⡏⠄⠄⠄⠄⠄⠈⣿⣇⠄⠄⠄⠄⠄⠄⠄⠄⢸⣿⣿⣿⣿⣿⣿⣿⣿⣿⣿⣿⣿⣿⣿⡽⣾⣿⣿⣿⡀⠄⠄⠄⠄⠄⠄⠄⠄⣿⣿⣿⣿⣿⣿⣿⣿⣿⣿⣿⣿⣿⣿⣿⣿⣿⣿⣿⣿⣿⣿⣿⣿⣿⣿⣿⡟⠄⣰⣿⣿⣿ ⣠⣾⣿⣿⣿⣿⣿⣿⣿⠃⠄⠄⠄⠄⠄⠄⢹⣿⡀⠄⠄⠄⠄⣀⣴⣶⣿⣿⣿⣿⣿⣿⣿⣿⣿⣿⣿⣿⣿⣿⠿⣱⣿⣿⣿⣿⣿⡀⠄⠄⠄⠄⠄⠄⠄⠈⠻⣿⣿⣿⣿⣿⣿⣿⣿⣿⣿⣿⣿⣿⣿⣿⣿⣿⣿⣿⣿⣿⣿⣿⣿⡿⣀⣾⣿⣿⣿⣿ ⣿⣿⣿⣿⣿⣿⣿⣿⡇⠄⠄⠄⠄⠄⠄⠄⠙⢻⣧⠄⣠⣤⣷⣿⣿⣿⣿⣿⣿⣿⣿⣿⣿⣿⣿⣿⣿⣿⣿⠁⠘⣿⣿⣿⣿⣿⣿⣿⠄⠄⠄⠄⠄⠄⠄⠄⠄⠄⠙⢿⣿⣿⣿⣿⣿⣿⣿⣿⣿⣿⣿⣿⣿⣿⣿⣿⣿⣿⣿⣿⣿⣾⣿⣿⣿⣿⣿⣿ ⣿⣿⣿⣿⣿⣿⣿⣿⡇⠄⠄⠄⠄⠄⠄⠄⠄⢸⣿⣿⣿⣯⣿⣿⣿⣿⣿⣿⣿⣿⣿⠄⠄⠈⠉⠉⠉⠉⠉⠄⠄⣿⣿⣿⣿⣿⣿⣿⣧⠄⠄⠄⠄⠄⠄⠄⠄⠄⠄⠄⠈⠛⠻⣿⣿⣿⣿⣿⣿⣿⣿⣿⣿⣿⣿⣿⣿⣿⣿⣿⣿⣿⣿⣿⣿⣿⣿⣿ ⣿⣿⣿⣿⣿⣿⣿⣿⠁⠄⠄⠄⠄⠄⠄⠄⢀⣾⣿⣿⣿⣿⣿⣿⣿⣿⣿⣿⣿⣿⠃⠄⠄⠄⠄⠄⠄⠄⠄⠄⢰⣿⣿⣿⣿⣿⣿⣿⣿⠄⠄⠄⠄⠄⠄⠄⠄⠄⠄⠄⠄⠄⠄⠄⠉⠉⠛⠿⢿⣿⣿⣿⣿⣿⣿⣿⣿⣿⣿⣿⣿⣿⣿⣿⣿⣿⣿⣿